Voice 21 is delighted to launch a new project, 'Get Talking in PRUs'.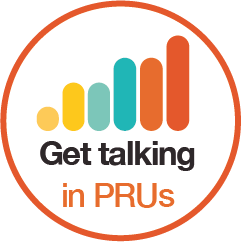 From September 2019 to August 2020, Voice 21 will work with 11 pupil referral units (PRUs) across England. The year-long oracy development programme will empower teachers and leaders to implement changes that will support excluded students to find their voice for success in school and life.
Working alongside the PRUs, 'Get Talking in PRUs' is based on Voice 21's Partner School programme, well-established in mainstream education settings. The project is designed to: 
Improve students' oracy skills, with a particular focus on developing their emotional intelligence, social and emotional competence and perceptions of self.

Increase teacher capability, confidence and capacity in effective oracy pedagogy and curriculum.

Improve the quality and quantity of verbal communication.

Develop leadership for oracy and build a culture of talk across the school.
This involves a four-stage multi-layered approach, designed to build the competencies and capabilities PRUs need to embed coherent, contextually informed and progressive changes to curriculum, pedagogy and culture:
Exploring: understanding context, assets, opportunities & needs through an auditing process;

Preparing: identifying key catalysts to create whole-school oracy action plan;

Delivering: inputting Voice 21's expertise, strategies, tools and guidance to upskill teachers/leaders to deliver their action plan;

Sustaining: continually reviewing, assessing and co-planning for sustained impact and connecting to a wider community of practice.
The project is fully-funded for PRUs thanks to support from Nesta's Future Ready Fund and the Dulverton Trust. The evaluation will be supported by independent evaluators led by Professor Robin Banerjee at the University of Sussex.
For more information, please contact Alice Stott, Director of Impact and Innovation.